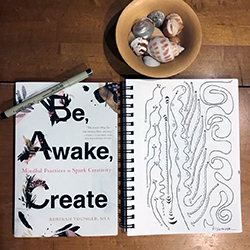 Contemplative Creativity Lab: The Power of Choice in Creating [Online]
with Rebekah Younger
How we experience freedom of inspiration and spontaneity, while working with limitations, depends on what we choose. Rebekah Younger's inspiration for this workshop comes from her year of isolation during the COVID lockdown and adjusting to the progression of her disabilities due to Parkinson's disease. How has limitation impacted you and your choices? Perhaps it's all in how we frame that experience?
Rebekah, author of Be, Awake, Create: Mindful Practices to Spark Creativity, will guide participants through two exercises from her book that experiment with choice and limitation. We'll use spontaneous choice and language in one. In the second, you'll consciously choose to limit aspects of your creation prior to making it. You'll use the medium of your choice for this exercise. There will be time for solo creating and then collective reflection on our experiences.
Supply List
Writing materials – paper, pen or pencil
Your preferred art materials to use for a creation to be completed within an hour (visual, written, movement, music, etc.)
Rebekah Younger, MFA (Interdisciplinary Art), is an artist, designer, entrepreneur, author and educator. She teaches meditation and art practices to encourage mindful creativity. Her book, Be, Awake, Create: Mindful Practices to Spark Creativity, is an accessible interactive collection of exercises, contemplations and insights as an artist, Shambhala Art Teacher and Vajrayana practitioner of Tibetan Buddhism. Her greatest joy is witnessing students awaken to and express their experience through their creations. Find out more about her coaching and online classes at: https://rebekahyounger.com
Contemplative Creativity Lab is about engaging the senses, bringing the fullness of our awareness to any activity, and connecting with our world. Everyone is warmly welcome, no exceptions. There is no need for any experience with art or meditation to take part. See more.