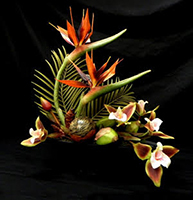 Shambhala Los Angeles Harvest of Peace Celebration [In Person]
Harvest of Peace In-Person Celebration
At Neighborhood Church
301 NORTH ORANGE GROVE BOULEVARD,
PASADENA, CA 91103
Click here for online Sunday morning practice 9:00 am – 11:45 am PT
Click here for online Shambhala Sunday Global Gathering 12:00 pm – 1:00 pm PT
Harvest of Peace is a special Shambhala Community celebration of the Fall Equinox - harvesting in the northern hemisphere and planting in the southern. This time is associated with the Ratna/Earth energy of nourishing, supporting and enriching. It is a time to contemplate what nourishes us personally and as a community.
Balancing home, work, social and spiritual lives can be very demanding, so we can take some time to examine and re-seed our relationship with generosity and abundance which strengthen and sustains us throughout the year.
It's a time of encouragement, raising each other's energy and rousing excitement for the year to come. Members and friends are invited to reconnect with the Shambhala community. Newcomers are welcome to see what we are all about!
We will be following all CDC recommendations and local regulations regarding in-person gathering, including social distancing and masks. Refreshments will be scaled back this year given the current circumstances. Though we will provide some packaged snacks, please bring your own drinks and any food you'd like for your own consumption. No alcohol permitted.
Schedule:
3:00 to 4:00 pm - Lhasang and community practice.
4:00 to 5:00 pm - State of the center address, appreciations.
5:00 to 7:00 pm - Prayer Flag making for all ages and socially distanced Social! Some packaged snacks will be provided but please bring your own snacks and drinks if you'd like. No alcohol. There are picnic tables in the beautiful outdoor space.
Click here to read about the Shambhala L.A. prayer flag project.