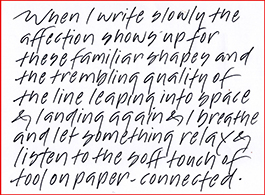 Slow Handwriting - A Contemplative Practice (Online)
with Barbara Bash
Note: this workshop will take place from 10 AM to 12 PM Pacific Daylight Time.
Our handwriting is a form of artistic expression that is accessible, unique and reflective of who we are in this moment.
Drop in to this close at hand visual voice and discover the creative self.
We will slow down our handwriting - working big, loose and illegible - small precise and clear - with pencils, pens and brushes,letting our true expression come forth.
Letters become words become three line poems. The alphabet sings.
BARBARA BASH is a lover of the alphabet, a calligrapher, illustrator, author, teacher and longtime buddhist practitioner. Her book True Nature : An Illustrated Journal of Four Seasons in Solitude was completely handwritten except for the bar code ! Visit - barbarabash.com
Supplies to have on hand: 8.5 x 11 paper - bond or drawing. Some 18" x 24" sheets too (or you can tape two together). Various writing pens, colored pencils, markers, brush pens, brushes and ink or watercolor.
Contemplative Creativity Lab is an online meditation community group led by Shambhala Art teachers and special guests. Join us from anywhere in the world, live via Zoom – second Saturday of the month 10 AM – 12 PM Pacific Time. For conversion to your time zone, please click HERE. Everyone is warmly welcome, no exceptions. The aim with our labs is to engage the senses, bringing the fullness of our awareness to any task. There is no need for any experience with art or meditation to take part. We've found that contemplative practices work well via Zoom since the focus is not on the screen, but more on what is arising within your own experience.
See Contemplative Creativity Lab