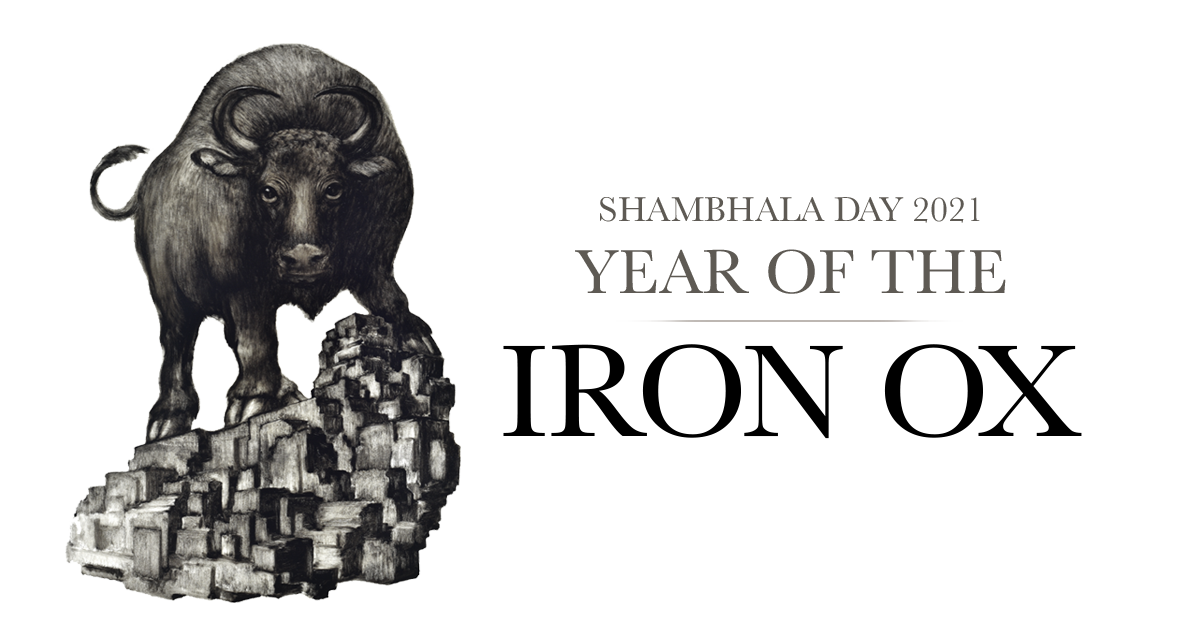 Shambhala Day: Year of the Iron Ox - Global Gathering [Online]
Shambhala Day Celebration with Worldwide Sangha
Year of the Iron Ox
SHAMBHALA DAY marks the beginning of the New Year, and represents one of the most important traditions of Shambhala Buddhism. Based on the traditional Tibetan New Year's celebration of Losar, the day is calculated astrologically according to the Tibetan lunar calendar, and changes every year to coincide with the annual lunar cycles.
This year Shambhala Day is on Friday, February 12, 2021. Shambhala New Year 2021 will usher in the Year of the Iron Ox. The Iron Ox has a strong quality of earth, and discovering what is already naturally available to us. The Ox doesn't have to look far to find what is needed. The Ox year is also connected with unity, and focusing on hard work – such as ploughing the fields. We are advised not to be too hasty in Ox years, but to take time for consideration before acting or making decisions. It is said that some efforts planted in the Ox year will take time to harvest and enjoy fruition.
Since last year's Shambhala Day, it seems as if the challenges so many of us have been experiencing have only intensified. Not only do we continue to grapple with the many divergent views in Shambhala about the Sakyong and our path forward, we have faced the existential threat and upheaval of a once in a century pandemic that has caused hardship and suffering for so many. It is our hope that this year's Shambhala New Year celebrations can be a way for us to connect – both as a way to build bridges amongst differences of view, and to nurture and support one another during the very real isolation so many are experiencing. We will do our best to create a Shambhala Day broadcast that will feel inclusive and that will celebrate what we have in common.

The official live broadcast will be on February 12, 2021 and will begin at:
10:00 a.m. Pacific Time
11:00 a.m. Mountain Time
12:00 p.m. Central Time
1:00 p.m. Eastern Time
2:00 p.m. Atlantic Time
7:00 p.m. Central European Time
This broadcast program this year will include joining together in worldwide group practice, and sharing Shambhala culture, and greetings from throughout our worldwide community. There will be new components to this year's broadcast as well as some traditional elements. We also anticipate inviting more speakers than usual from around the world, as opposed to a format with only one main speaker or presenter.
Due to the COVID-19 pandemic, we anticipate a Shambhala Day broadcast that is primarily online, with all of us gathering virtually from around the world. However, we know there may be some places in the world where people can still be together safely at their local Centre or as a group. Please follow the health and safety guidelines in your local area as you make your Shambhala Day plans. We would also be encouraging you to host a local online gathering for your members on Shambhala Day, either before or after the international broadcast, or at a day and time that works best for your community.
Click the "Register Here" button to be taken to the registration page. Please scroll down on the registration page for "Registration for Individuals".
Here are some technical and practical tips for being together in an online community: Arrive early for help from the host; Learn how to Mute/Unmute; Ask for help from the host via the Chat function; Consider that we're together in a meditation hall supporting our own and others' practice of mindfulness and awareness.
Need Help With Zoom?
Zoom Best Practices & Etiquette:
This page is a good starting point for all levels:
Recommended Popular Topics:
Getting Started
Audio, Video, Sharing
Messaging
Video Tutorials:
Live Training Webinars - look for prerecorded options:
Getting Started With Zoom Meetings: