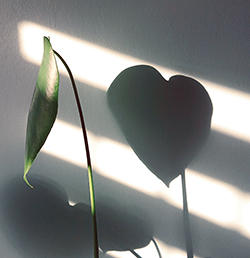 Contemplative Creativity Lab: Finding the Empty, Finding the Love [Online]
with Kerry Schwartz & Robert Fox
It's nearly Valentine's Day, which can be a drag for some! In this lab, we will make love notes for ourselves and for another. First, we invite love into our lives by giving ourselves "playtime" as an act of care. Let's first contemplate what we are missing, or "what feels bad about being me", allowing that to be seen and to breathe with Robert guiding us in a new sound meditation.
Then we can write, paint, draw, or collage a compassionate response, a love note to ourselves, by gently witnessing what is hard to accept in ourselves. How is this an expression of self-love? All emotions are welcome to explore. And don't forget, eros is an accepted aspect of this self-love as well as for another. Next, let's create a note to someone or something we love and cherish. We can extend the same sweetness, bravery, humor, and passion with our materials and words. Love poetry, words, abstract and realistic imagery through any media you like can be our playground!
Suggested Materials:
cardstock or heavy paper
colored and/or regular pencils, small brush and any paints
colored paper, images (from magazines for example), glue stick or glue if you're doing collage.
Kerry Golemon Schwartz has been a student and teacher of Shambhala and Tibetan Buddhism since 1976, as well as a student and teacher of Shambhala Art. Kerry enjoys art-making in ceramics, Miksang photography, poetry, drawing, and painting. She has an M.A. in Transformative Art from John F. Kennedy University in the Bay Area.
Bay Area artist Robert Fox works with film, photography and sound. He has been practicing with Shambhala for 20 years, having been introduced to the teachings of Chögyam Trungpa Rinpoche and Pema Chödrön through friends in the Sangha. He channels this experience in art and sitting meditation as a teacher in the Shambhala Art program. Robert received his BFA in printmaking from Otis Art Institute and an MFA in Film from the San Francisco Art Institute. He also earned his MFA in Electronic Music from Mills College in Oakland.
Contemplative Creativity Lab is about engaging the senses, bringing the fullness of our awareness to any activity, and connecting with our world. Everyone is warmly welcome, no exceptions. There is no need for any experience with art or meditation to take part. See more.
Photograph by Tom Swinnen for Unsplash