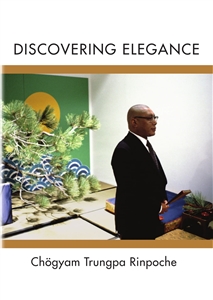 Contemplative Creativity Lab: Discovering Elegance [Online]
with Steve Saitzyk
"Discovering elegance is the way of the warrior. Through gentleness and discipline, such a warrior brings a sense of harmony to everyday life."
Discovering Elegance is a film directed by Chögyam Trungpa Rinpoche. In it, he demonstrates the art of design, calligraphy, flower arrangement, and object placement in preparing an environmental art exhibit at the Los Angeles Institute of Contemporary Art in 1981. We will view the short film and Steve will lead us in a brief contemplative exercise. There will be time for conversation and hearing some stories from Steve about the preparations for the L.A. event that is depicted in the film.
Steven Saitzyk is an Adjunct Professor at one of the leading art colleges in North America, Art Center College of Design in Pasadena where he teaches year round. He is author of Place Your Thoughts Here: Meditation for the Creative Mind and one of the founders of Shambhala Art, a non-profit arts education program designed to integrate meditation and contemplation with the creative and viewing processes. He is its current international director. See: www.shambhalaart.org. He has practiced and taught meditation for more than forty years, as well as consulted and lectured on meditation, Dharma Art, Shambhala Art, Vajrayana Buddhism and its iconography, Tibetan art, symbolism, as well as on the materials used to create both Asian painting and art of the western world. He is the author of ART HARDWARE: The Definitive Guide to Artists' Materials, a book about the nature of materials. He has studied and worked directly with some of the leading contemporary artists of our time, as well as masters of Buddhist art, meditation, philosophy, and psychology, among them The Venerable Vidyadhara Chögyam Trungpa Rinpoche and Sakyong Mipham Rinpoche. He has also been a painter for most of his life and his work is part of numerous collections.
The aim with our contemplative arts programming is to engage the senses and bring the fullness of our awareness to any task, in community. Everyone is warmly welcome, no exceptions. There is no need for any experience with the arts or meditation to take part.
Important Note: Please log in with, or consider creating, a Shambhala account on the registration page (right side of the page) to receive the program's Zoom meeting information immediately. This is especially important for participants who register close to the program start time.