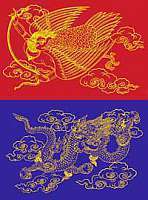 Shambhala Training Sacred Path: Outrageous and Inscrutable [Online]
with Shastri Ruth Wallen & Jonathan Barbieri
The fruitional dignities of Garuda and Dragon refer to the extraordinary skill of a practiced warrior. No longer afraid of making mistakes, the unconventional and visionary perspective of the outrageous warrior combines with the skill of spontaneous inscrutability to create benefit for others on a large scale.
Prerequisite: Sacred Path: Meek and Perky
Zoom Access: This course will be offered online via Zoom at the dates and times (in Pacific Time Zone) listed above; use The Timezone Converter to determine your local class time. After registering for the course, you will receive instructions for joining course meetings.
Important Note: Please log in with, or consider creating, a Shambhala account on the registration page (located on the right side of the page) to receive the program's Zoom meeting information immediately. This is especially important for participants who register close to the program start time. That said, registering now is strongly recommended—and an act of kindness for our teachers and coordinators!
Pricing Information and Generosity Policy: We are committed to making our programs and classes accessible to everyone, and we will not turn anyone away due to financial concerns. If the Program Price is an obstacle for you, please decide what works for you and offer what you are able to pay. You do not need to apply for the Generosity Policy in advance, but if you have questions, please contact us.