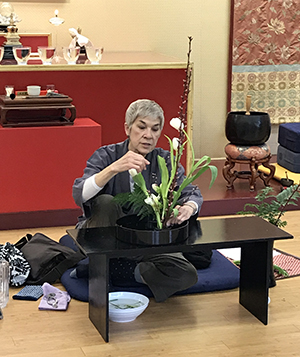 Contemplative Creativity Lab: What is Kado? with Marcia Wang Shibata [Online]
Note: Simultaneous translation into Spanish will be available for this talk. Please plan to join a few minutes early for instructions on how to access.
Kado, often referred to as Ikebana, can be practiced as a contemplative art - a form of "meditation in action", a creative dance with nature, space, and one's perceptions. What does that mean and how do we practice it? What is the view of Kado?
Join us from anywhere in the world for a live zoom conversation and demonstration with Master Shambhala Kado/Ikebana Instructor, Marcia Wang Shibata. There will be a period of time dedicated to sitting meditation as well as opportunities to ask questions of Ms. Shibata. It is not necessary to be an 'artist' or to have experience with meditation or flower arranging to participate.
"Kado" is Chinese, meaning "The Way of Flowers". This practice of arranging flowers began in China over 2300 years ago. When it was introduced and assimilated into Japan, the Japanese word "Ikebana" arose, meaning "living or natural flowers". Kado is a contemplative practice that studies nature as it is.
Marcia Wang Shibata is a Master Shambhala Kado/Ikebana Instructor within the Shambhala Buddhist community and founder of the Shambhala Kado Rigden School of Ikebana. She is a student of Chögyam Trungpa Rinpoche and Sakyong Mipham Rinpoche. Having studied and practiced in both a major classical and modern Ikebana school, she teaches from the view of nature's innate wisdom and Buddhist/Shambhalian compassionate warriorship.
Contemplative Creativity Lab is an online meditation community group led by Shambhala Art* teachers and special guests. Join us from anywhere in the world, live via Zoom – Second Saturday of the month 10 AM – 12 PM PT. The aim with our labs is to engage the senses, do one thing at a time and bring the fullness of our awareness to any task. Everyone is warmly welcome, no exceptions.