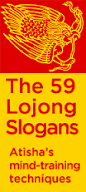 Training the Mind in Compassionate Engagement: The Practice of Lojong [Online]
with Shastri Marilyn Moore & John MacAdams
Program Description: The practice of Lojong—"mind-training" in Tibetan—invites us to use the challenges we encounter every day to awaken our hearts. Rather than seeing unwanted aspects of life as obstacles, they can be viewed as the raw material necessary for awakening genuine compassion for ourselves and others.
During this six-week class, we will study and explore the centuries-old Seven Points of Mind Training consisting of fifty-nine pithy and easy to remember slogans that encapsulate the essence of Lojong. Presenting profound techniques of cultivating compassion and pith reminders for how we can awaken and act with kindness in each moment, these are an indispensable set of tools for cultivating bodhichitta, the awakened heart of compassion and wisdom. Participants will receive instruction in Tonglen, engage in contemplation practice, and have the opportunity to learn from one another through experiential exercises, conversation and dialogue.
Lojong teachings help us connect with the world in an unconditionally positive way while encouraging us to take full responsibility for our experience in it. The spiritual path does not lead to non-activity and withdrawing from the world. In the Shambhala tradition, the master warrior is profoundly engaged in a way that is skillful and wise because of being completely in touch with what is going on.
These practical teachings can be used every day in our lives, especially with those situations that challenge us the most!
Course Texts and Materials: It is strongly suggested that participants purchase a set of Lojong cards. These can be found at Samadhi Cushions.
An alternative is to purchase Pema Chödrön's Compassion Cards: Teachings for Awakening the Heart in Everyday Life. These Lojong cards have a brief commentary by Pema Chödrön on the reverse of each card and are available on Shambhala Publications' website, Amazon, and other online booksellers.
The following texts will be helpful in your study but are not required:
Training the Mind and Cultivating Loving Kindness, Chögyam Trungpa [Shambhala Publications, Amazon]
Start Where You Are, Pema Chödrön [Shambhala Publications, Amazon]
The Practice of Lojong: Cultivating Compassion through Training the Mind, Traleg Kyabgon [Shambhala Publications, Amazon]
About the Teachers: Shastri Marilyn Moore has been a member of the Los Angeles Shambhala community since 1997. She served as Center Director during the move to the current Eagle Rock location and later took on the role of Head of Practice for several years.. In 2016 she was appointed as one of three Shastris, or senior teachers, for the greater Los Angeles area with a special commitment to cultivating the OC Shambhala community. Before retiring, she enjoyed working in a university art gallery for almost thirty years. During this time of isolation, she is appreciating a simpler life with much less time spent in traffic on the Los Angeles freeways.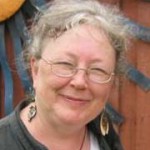 John MacAdams has been a student and practitioner of Shambhala Buddhism since 1982. For over 16 years, John has been an MI and active Assistant Director for Shambhala Training. He is Senior Buddhist Chaplain for the Los Angeles Men's Central Jail and is certified by the Engaged Mindfulness Institute as a Mindfulness Meditation Facilitator.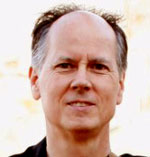 Participant/Registration Note: While additional details will be announced soon, registering now is strongly recommended—and an act of kindness for our teachers and coordinator!
This course will be offered online via Zoom at the dates and times listed above. After you register for the course, we will send you instructions for joining the course meetings.
Pricing Information and Generosity Policy: We are committed to making our programs and classes accessible to everyone, and we will not turn anyone away due to financial concerns. If the Program Price is an obstacle for you, please decide what works for you and offer what you are able to pay. You do not need to apply for the Generosity Policy in advance, but if you have questions, please contact us.