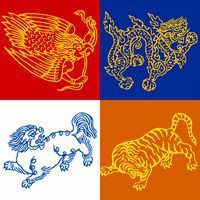 Shambhala Training Sacred Path: Meek and Perky [Online]
with Carolyn Sykes, Robert Lehmann, Shastri Marcia Henry-Fink
The four dignities are introduced as both path and process, which describe a warrior's maturing and widening sphere of benevolent engagement in the world. The training in the dignities allows one to maintain awareness and delight at each stage.
Meek is a study of the grounded, humble and gentle beginning stages of a warrior's journey. Here, one trains to overcome arrogance - the primary obstacle to learning. Perky focuses on cultivating sharp, vibrant and uplifted energy through natural discipline. Overcoming the trap of doubt, the warrior of Perky is able to accomplish his or her activities with a sense of nobility and ease.
Prerequisite: Sacred Path: Drala
Participant/Registration Note: While the program's teacher and additional details will be announced soon, registering now is strongly recommended—and an act of kindness for our coordinator!
Readings will include selections from Sakyong Mipham Rinpoche's Ruling Your World, which participants may purchase (though it is not required) from Kalapa Publications or Amazon.
Zoom Access: This course will be offered online via Zoom at the dates and times listed above. After you register for the course, we will send you instructions for joining the course meetings.
Pricing Information and Generosity Policy: We are committed to making our programs and classes accessible to everyone, and we will not turn anyone away due to financial concerns. If the Program Price is an obstacle for you, please decide what works for you and offer what you are able to pay. You do not need to apply for the Generosity Policy in advance, but if you have questions, please contact us.