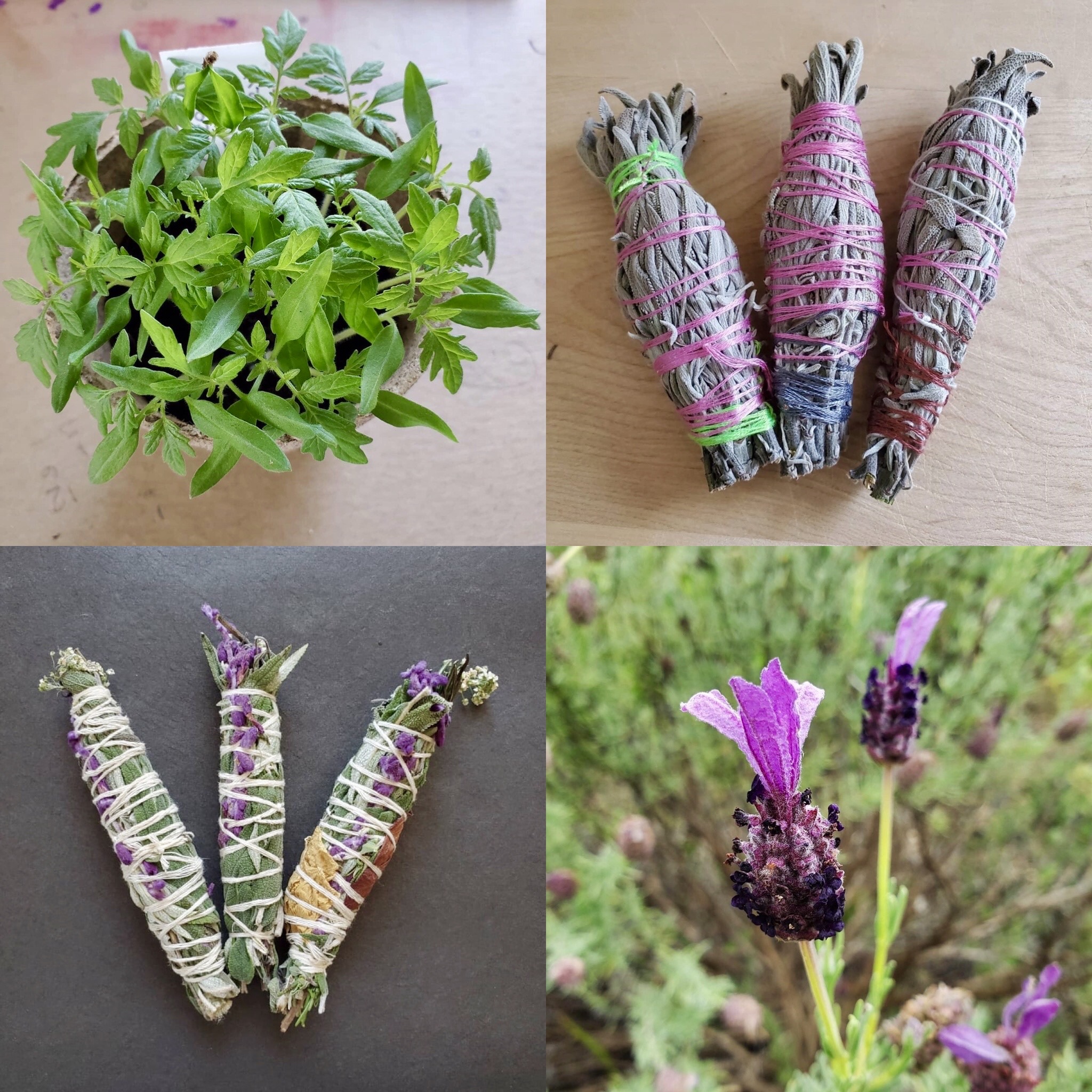 Community Circle: Cleansing Your Space With Nature [Online]
with Perla Bodden
Utilize what's growing now in your garden (or neighbor's garden with permission!) and gather some herbs and flowers to create your own decorative arrangements or smoke cleansing bundles. Herb bundles like rosemary, thyme, sage and lavender, can be lovely to have in your environment as well as dried and burned to smoke out what is stagnant and welcome freshness to your space. Perla will demonstrate how to make your own beautiful bundle of herbs and flowers, and answer questions, as well as show some of her dried arrangements to spark your own creative ideas. (Smoke cleansing is often done indoors, but proceed with caution and plenty of ventilation.)
Materials to have on hand if you'd like to create your own:
Gather fresh herbs and flowers such as, lavender, rosemary, thyme, mint, garden sage, Mexican sage, fresh bay leaves, rose, lemongrass, and/or evergreens such as pine, cedar, spruce or fir. Perla suggests cutting your fresh herbs, plants and flowers a day or two ahead of this event so they are still pliable and not dried. They need to be pliable to make into bundles. Cut them long as you can so they can be trimmed to the same length during class.
Cotton string, thread or twine (no synthetics!).
Garden cutters and scissors.
Perla Bodden is an L.A. native, an avid gardener and a student of Surface/Textile Design at Otis College of Art and Design. She's one of the most crafty people we know! She's a regular participant and delightful presence at our Contemplative Creativity Labs and Community Circles.
See her work at: https://pbodden.myportfolio.com/work and www.instagram.com/perolabr2too
Additional resource: https://wisdom.thealchemistskitchen.com/smoke-cleansing-as-an-appropriate-alternative-to-smudging/
LA Shambhala Community Circle pop-up is where members and friends can showcase and share, discuss and enjoy. Our purpose is to cultivate mindful community, support each other and share ideas. Connecting with our senses, our environment, our materials and our heart. Everyone is warmly welcome, no exceptions. As always, there is no need for any experience with art or meditation to take part in and enjoy these circles. For questions, please contact [email protected]