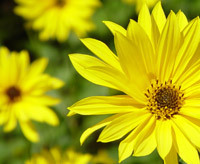 Finding Joy in a Time of Plague: The Path of Meditation and Compassion
with John MacAdams & Sharon Owyang
"Don't let life harden your heart."
We often approach our lives with the idea that joy comes from the fulfillment of our personal desires. During this time of pandemic and lockdowns, it may feel like joy is elusive, all the more difficult to find in a world that has been turned completely upside down. Through an exploration of the Buddhist teachings on meditation and the Bodhisattva's intelligent compassion towards self and others, we can begin to discover the confidence and inspiration for a life of cheerful discipline, health, and bravery, no matter what the external circumstances.
Finding Joy in a Time of Plague: The Path of Meditation and Compassion explores the meaning of joy and the true source of personal energy and inspiration. This 5-week course introduces the experience of awakening our heart and extending loving-kindness to others as a means to continuous personal inspiration. This joyfulness provides the ground we need to go forward on our journey with a genuine, sustainable enjoyment of ourselves, others, and the world around us -- making these teachings especially relevant during this challenging and uncertain time.
The class will be conducted online, and will include meditation instruction, talks, periods of meditation practice, discussion, and a variety of contemplative practice activities. This course is open to all and also serves as a companion to the Shambhala Training Weekend III retreat.
GENEROSITY POLICY FOR THIS CLASS:
We recognize that many people may be experiencing financial hardship at this time. Please pay in accordance with your circumstances (write in the amount). Nobody will be turned away for lack of funds.
____________________________________________________________________
John MacAdams
A student and practitioner of Shambhala Buddhism since 1982, for over 16 years John has been an MI and active Assistant Director for Shambhala Training. He is Senior Buddhist Chaplain for the Los Angeles Men's Central Jail and is certified by the Engaged Mindfulness Institute as a Mindfulness Meditation Facilitator.
Sharon Owyang
Sharon has been a student of Shambhala since 2007. She recently retired as the Regional Director of Southern California Shambhala. Sharon is a writer, former film producer, and world traveler.
Please register and pay online in advance of the class in order to receive the Zoom link for the program.