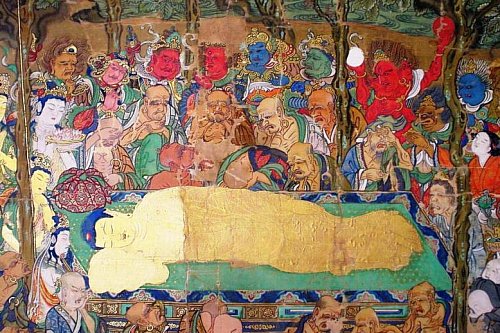 Before I Die: A Two-Part Workshop on Practical End-of-Life Preparations - Online
with Shastri Marilyn Moore, Joshua Northcutt, Alice Toohey
If during these uncertain times you have found yourself thinking about finally writing a will, completing an Advance Healthcare Directive, or simply questioning how to begin to make practical preparations for death—getting things in order—this two-part program is for you.
PART ONE, Saturday, April 25
We will hear presentations from
Alice Toohey, an End-of-Life Doula and Home Funeral Guide trained to provide support to a person dying and their family from the time of a terminal diagnosis through the dying process including after death care.
Joshua Northcutt, a Hospice nurse, who will discuss health care directives, palliative care, pain medication titration and hospice care.
Shastri Moore will go through the "Five Wishes" document, a living will that allows us to convey in detail how we wish to be treated if we become seriously ill.
Participants will leave with homework—links to some of the necessary legal forms that can be mulled over and worked on during the following two weeks. Many informative documents will be made available to print out: a compilation of helpful websites (including an online presentation discussing Living Trusts), an extensive reading list, a list of items and information that should be gathered to place in a "Death" binder, and more.
PART TWO, Saturday, May 9
At this second half-day meeting, there will be an opportunity to discuss any concerns that may have come up as we began taking actions based on information from Part One. The focus will turn toward preparations for death as practitioners: creating a Dharma Will and choosing a Dharma Executor, preferences for a funeral ceremony, practices we might want during the time before and after death, and more.
Please purchase (or re-purpose) a 3-ring binder before Part One.
Participants will be encouraged to use this "Death" binder to assemble materials and information that will be needed by loved ones and friends following our death. This is an act of generosity and kindness toward those who will be put in a position of wrapping up our affairs as well as being a physical reminder to us that "death comes without warning."
Once registered and paid, you will receive a link to the Zoom Meeting Room for this program along with additional information about the workshop. If you are needing a discount, please fill in the registration form and leave the amount you will be paying in the comments section.
About the teachers:
Shastri Marilyn Moore has been active in the Los Angeles Shambhala community since 1997, holding several positions including Center Director and Head of Practice. In 2011, she retired from working in an art gallery for almost thirty years. During the past decade, her focus has been on helping to cultivate OC Shambhala—a small but energetic center in Costa Mesa. Her appointment as a Shastri (senior teacher) in 2016 includes a special commitment to this community. Now in her mid-seventies, Marilyn finds herself increasingly curious about aging as a spiritual practice and "Don't forget you are going to die" has become a daily contemplation.
Joshua Northcutt became interested in death and dying at an early age with the death of family pets and both grandmothers and has continued to contemplate what happens when someone dies. As a young adult, Josh began studying Tibetan Buddhism when he graduated from nursing school and has spent over twenty-five years working with birth, old age, sickness and death in a wide variety of settings. He found Shambhala in 2010 and became a student of Sakyong Mipham Rinpoche a few years after moving to Los Angeles. He is a Shambhala Path Meditation Instructor and enjoys spending time with family and especially their pets.
Alice Toohey became interested in family and community-led death care in 2012 when participating in the home funeral and burial of her father on his own land. She felt empowered to help others who wish to care for their own family members and friends in dying and after death. In 2019, Alice earned a certificate in the Art of Death Midwifery with Olivia Bareham in Los Angeles. She is on the board of the National Home Funeral Alliance, a 501(c)3 that educates and empowers families and communities to care for their own dead. She is also a meditator and member of Shambhala Los Angeles. She gives introductory meditation instruction and has facilitated contemplative discussion groups. www.alicetoohey.com