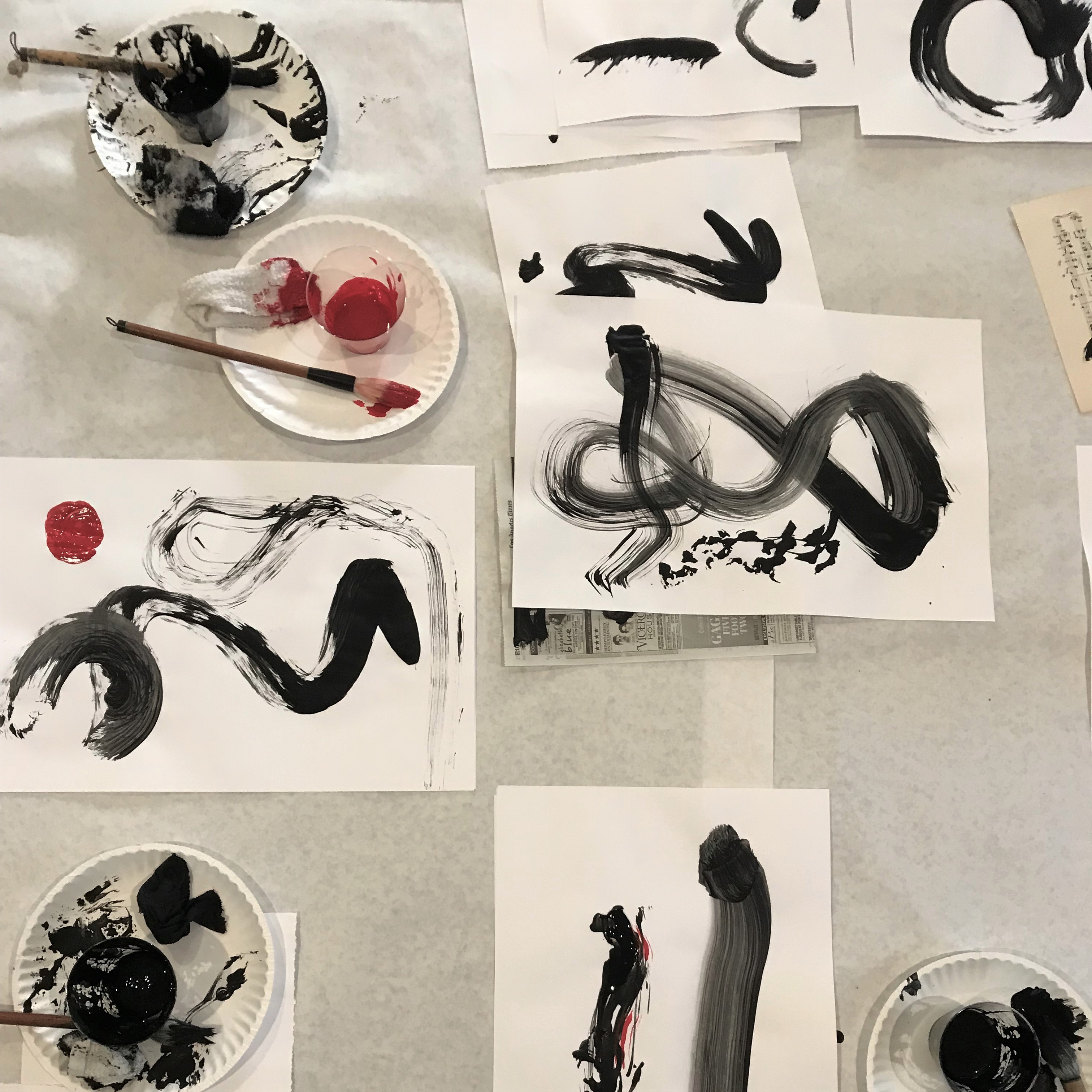 ONLINE - Contemplative Creativity Lab: Calligraphy is a Dance
with Anne Saitzyk
Supplies you'll need are listed below. No need to buy anything, we can make it work!

When we loosen the grip of hope and fear and return to our senses, we are in the present moment, Square One, where we might make a gesture that is truly an expression of Now. This can feel irritating or joyful, but it is open and genuine.

We will work with structure and with openness, practicing the principals of allowing Space, giving Form and engaging Energy. We'll start with a brief check-in, a short meditation and move into our art form. No art or meditation experience is necessary.
Supply List:
Brush: If you can, have a soft hair paint brush, any size you like. A good size is about 1" or 2" wide and 3" or more inches long. If you don't have a brush, that's okay. You can use a piece of rag only (no brush needed). Everyone should please have a piece of rag about 5" long and about 2" wide. You can use a glove as well if you like.
Paper: Any kind of paper you might have – copy paper, artist paper, paper bags, newspaper – anything is fine. Ideal would be about 10 sheets of copy paper and then about 10 sheets of something larger (any size).
Ink: and a dish for the ink. Sumi ink is great or any kind of liquid ink. If you don't have that you can use watercolor. If you don't have that, you can use plain water or coffee or tea as your "ink".
Water: A dish of water to rinse your brush. Having a paper towel handy is good.
Looking forward to seeing you all online and what you might have on hand for your "art" materials!


Anne Saitzyk is a painter, serves as Director of Contemplative Arts at Shambhala Meditation Center of Los Angeles and co-founded Contemplative Creativity Lab. She met the Shambhala Buddhist dharma through the Dharma Art program in 1997 and is Assistant Director of the international Shambhala Art program. She has been teaching painting and drawing at Art Center College of Design for over 25 years and occasionally teaches in other parts of the world.

Based on the Dharma Art Teachings of Chögyam Trungpa Rinpoche. The Dharma Art teachings unlock a non-conceptual sense of knowing that is available to all. No art or meditation experience is required. All are welcome. Suggested Reading: True Perception by Chögyam Trungpa.



What is Contemplative Creativity Lab? Founded in 2013, we are a group of trained Shambhala Art Educators and Special Guests who lead explorations of the Dharma Art teachings of Chögyam Trungpa Rinpoche. Every month is different and have included ink and brush, movement, photography and poetry. What links these is the ground of meditation which allows for fresh perception to be in the forefront, rather than trying to make "art". So, we give meditation instruction and sit for a short time before we move into a meditation-in-activity. Creating from that place of open mind/heart we call "Square One". Please check it out!
Please register below and we'll send you the zoom link.