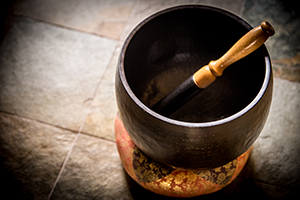 Umdze Training (Westside)
with Anne Saitzyk
Please note that this event will be rescheduled at a later date.
Space is limited; please register early.
An "umdze" is the time keeper and chant leader for sitting meditation. Being an umdze is not only an opportunity to serve others, but is a way to deepen our own practice of being aware in the present moment.

Whether you are currently an umdze who wants to develop further in your practice, would like to learn to umdze and understand the shrine room forms or you're simply curious, you are invited to attend this training.
There is no obligation to serve as an umdze after the training; Only members of Shambhala L.A. who have taken Shambhala Training Level III: Warrior in the World or beyond are eligible to serve as umdze. This type of practice, generally referred to as "rota," can be an important and deeply satisfying part of our path.
The focus of the training will be on the view of the role of umdze, creating and holding a container for practice, and working with space. We will practice and review the latest forms for chants, relating with the shrine and preparing the space for meditation.