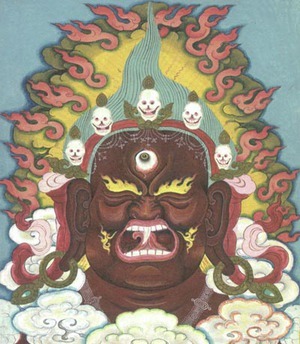 Pacifying the Turmoil of the Mamos (Westside)
Everyone is invited to join in this practice. During the days immediately before Shambhala Day (the Tibetan Lunar New Year), we come together to recite the chant, Pacifying the Turmoil of the Mamos, multiple times. It is an elaborate protector offering that pacifies the karmic causes of personal, social, and environmental chaos accumulated at the year's end. By reciting this chant, we tune into the protector principle of awareness, reconnect with sacred view and go into the new year with a fresh and open outlook.
Although Pacifying the Turmoil of the Mamos is traditionally recited by vajrayana practitioners, all practitioners are invited to participate.
Click here to learn more.
If you would like to help in the purifying and transforming, just come! Set aside 1 and 1/2 to 1 and 3/4 hours on as many of these dates as work for you. Please note that times vary. Every day's practice will take place in the small shrine room. There is a lot of chanting, so you may want to bring a water bottle.
On Saturday, Feb 22nd, the concluding recitation of the practice will be done in the context of a Werma Feast at the Eagle Rock Center, open to students who have received Rigden Abhisheka.
February 23rd, the day just before Shambhala Day, is karmically considered a neutral day. It is a traditional time to clean and refresh one's home and shrines in preparation for the coming year.
Please join in this powerful and provocative practice as we come to the end of the Tibetan year.