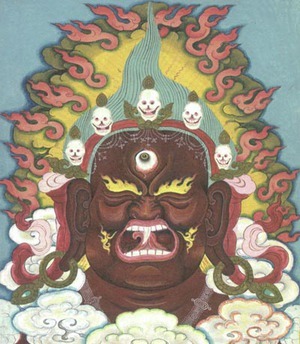 Pacifying the Turmoil of the Mamos (Orange County)
Everyone is invited to join in this practice. During the days immediately before Shambhala Day (the Tibetan Lunar New Year), we come together to recite the chant, Pacifying the Turmoil of the Mamos, multiple times. It is an elaborate protector offering that pacifies the karmic causes of personal, social, and environmental chaos accumulated at the year's end. By reciting this chant, we tune into the protector principle of awareness, reconnect with sacred view and go into the new year with a fresh and open outlook.
Although Pacifying the Turmoil of the Mamos is traditionally recited by vajrayana practitioners, all practitioners are invited to participate.
Click here to learn more.
February 23, the day just before Shambhala Day, is karmically considered a neutral day. However, it is a traditional time to clean and refresh one's home and shrines in preparation for the coming year.

Join in this powerful and provocative practice as we come to the end of the Year of the Earth Boar with all the global, community and personal obstacles that accompanied it.