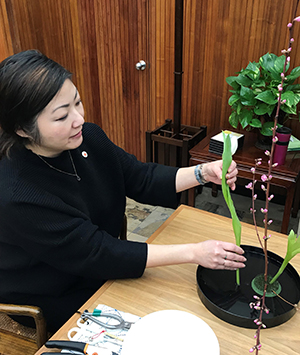 Demonstration of Contemplative Flower Arranging or Kado (Eagle Rock)
with Anjie Cho
Kado ikebana (flower arranging) is a contemplative/meditative art, revealing the relationship between nature, space and human awareness.

All are welcome to come learn about the principles of Heaven, Earth, and Humanity as Anjie Cho creates a classical Kado arrangement. There will be an opportunity to ask questions and refreshments will be served.
Be sure to look for our Intro to Kado weekend at the end of Feb. with master Kado Instructor Marcia Shibata, and Anjie Cho assisting. You will work with and take home fresh flowers and plant material. Go to https://la.shambhala.org/program-details/?id=420480 to register. (Saturday Only is an option for beginner's; Sunday Only for repeaters. Discount for registering for the full weekend.)

Anjie Cho is a student of Marcia Shibata, and is a Kado Guide in the School of Rigden Ikebana. She is also an architect, feng shui educator, and author. Visit Anjie's website www.anjiecho.com .