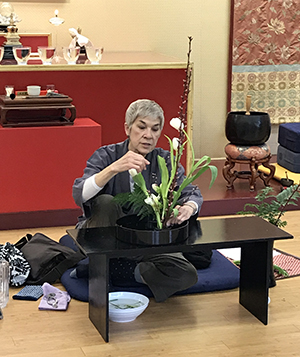 Kado Ikebana: The Way of Flowers (Eagle Rock)
with Artist to the Court Marcia Shibata & Anjie Cho
With Anjie Cho assisting Ms. Shibata.
Pre-requisite: Kado: Introduction to the Way of Flowers
Kado, "The Way of Flowers", is a creative and meditative art, a dance between nature, space, and perception. The vibrant and daring beauty of flowers wakes up the environment and compels us to see what is really before us.
By continued practice with classical Ikebana forms, Kado teaches us to see the wisdom of nature clearly, which is the same in ourselves and others. The ultimate purpose in Kado is not to make pleasant flower arrangements, but to discover joyfulness, work with obstacles, and develop respect for all things animate or inanimate.
Students who wish to study with Marcia for the full weekend, may sign up for the Saturday class as well, and receive a discount. See below. Please register in advance.
Discount for Taking Both Kado Programs (full weekend)
Participants who register for both the Saturday workshop on Feb. 29th and the Sunday workshop on March 1st will be eligible for a discounted price of $220 total for the full weekend. Make a note in the comments on the registration pages.
Marcia Wang Shibata is a Master Shambhala Kado/Ikebana Instructor within the Shambhala Buddhist community and founder of the Shambhala Kado Ridgen School of Ikebana. She is a student of Chögyam Trungpa Rinpoche and Sakyong Mipham Rinpoche. Having studied and practiced in both a major classical and modern Ikebana school, she teaches from the view of nature's innate wisdom and Buddhist/Shambhalian compassionate warriorship.
Anjie Cho is a student of Marcia Shibata, and is a Kado Guide in the School of Rigden Ikebana. She is also an architect, feng shui educator, and author. Visit Anjie's website www.anjiecho.com