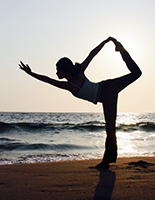 Yoga - Mixed levels (Eagle Rock)
with Jenny Hannah
* Bring a Yoga Mat (we have a few to loan)
Through breath and postures, we will journey towards accessing the basic health of our mind-body. Whether you are newer to yoga or an experienced practitioner looking to deepen your practice, this class will be an opportunity to receive clear and detailed instruction on alignment while celebrating our unique expressions in each pose. Expect classes to bring equal attention to both strength and flexibility, a bit of challenge, a pinch of play, and rich thematic elements.
As a "mixed level class" modifications for poses will always be offered.
Jenny Hannah began studying yoga in 1999 while healing from a severe bicycle injury. Since that time, she has studied deeply and whole-heartedly under various schools of movement and Yoga, and in 2007 she began teaching. Integrating the principles of bio-mechanics, with its precise methodology, and connecting to the intuitive experience of the body as the ground, she has worked with thousands of people, from competitive athletes, the elderly, mothers-to-be, professional dancers, traffic devotees, energetic yogis, and those recovering from injury. In class she aspires to venture into a co-creative space where we experience the natural support, spaciousness and clarity of our wisdom body. Please visit yogasonata.com for Jenny's full bio.