Community Circle: Knitting and other Stitch Crafts (Eagle Rock)
with Edgar Anolin
Suggested Donation $10
Shambhala Community Circle is an occasional Pop-Up event where members and friends can showcase and share, discuss and enjoy. Less a "class", but more about making friends, supporting each other and sharing ideas. You are invited!
For our first Circle, long-time L.A. Shambhala Center member Ed Anolin will present some of his projects and talk about what he finds beautiful about knitting and other stitch crafts and why he enjoys these practices. He's also willing to do a little "clinic" if you have questions.
You're invited to bring your own stitch crafting projects to work on for the second part of the Circle – or if you're not into that, bring a sketchbook or other project or just yourself.
Community Circle Basic Schedule:
10:30 Welcome / Meditation
11:15 Community member (pre-arranged) will Show and Tell
12:15 Break
12:30 Working on your own project, or simply enjoying each other's company over tea in the community room. Tea and snacks will be available.
1:00 End.
Ed Anolin has been a member of SMCLA since 2006. He started knitting in 2010 when he lost his favorite hat and decided to learn to make his own hats. He's also a hiker and photographer.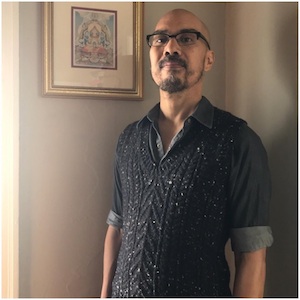 Ed Anolin wearing one of his knitted creations.